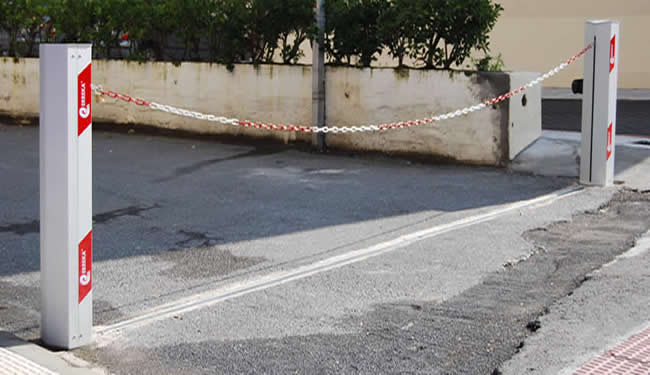 CHAINGATE - 20 METRE 24 VOLT
OVERVIEW
Chain Gate is an is a lower security traffic control devicethat can control access to personal parking areas due to it's ability to raise and lower its chain up to 20.0 metres in width. This makes it ideal for car park entrances and caravan parks where you would otherwise have to use two boom gates. Another great idea is the protection of multiple personal parking spaces. The drop gate can be controlled by all the usual access methods but simply plug in a wireless receiver and remote controls are a handy way to go.
TO WATCH A VIDEO OF THE CHAINGATE CLICK HERE
PRICING
CHAINMASTER -
Master unit with built in logic control unit.
$3439.00
CHAINSLAVE -
Slave side - not logic control
$2453.00
CHAIN -
Priced per metre
$46.00
SPECIFICATION
Motor Voltage -
24 volts DC
Current Standby -
40mA
Current at use -
1.0A
Opening time -
10 seconds
Maximum chain length-
20 metres
Duty cycle -
100%
Height -
1010mm
Width -
218m
Depth -
178mm
Weight -
25 Kg
DOWNLOAD & MANUALS
INSTALL MANUAL -
OPTIONAL
Photocells -
A must have if you use automatic closing function is photocells. Photocells provide an extra level of safety to prevent boom gates from closing on vehicles or pedestrians. Boom gates can have a single set between the boom gate and the boom support or multiple sets if desired at various heights. With this sort of automation be sure to choose a quality photocell with filters like the BEAMFLIP or BEAMFLIPBATT and install using screened cable.

Mains Power Filter -
Boom gate automation like this usually is installed on commercial and industrial sites where you can be pretty certain the mains power is less than desirable. Dirty power can result in lack of reliability and increased service costs. Installing a good quality filter will not only guard against spikes and surges but clean up the power before it reaches your electronics.